Philadelphia Indian Grocery Stores
Philadelphia and the nearby towns of Bensalem, West Chester are home to several Indian grocery stores.
Indian Vegetables
Whether you want to buy fresh Indian vegetables like Tindora, Bitter Gourd a.k.a Karela, Okra, Curry Leaves, Baingan or Palak, you get them all and more including the small green chillies used in Indian cooking at Philadelphia Indian grocery stores.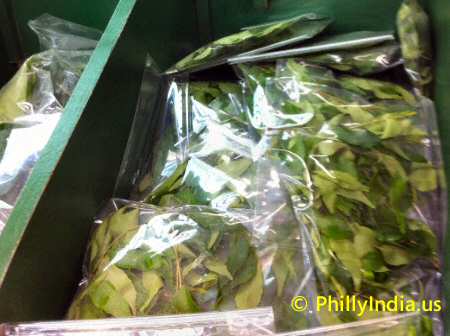 Indian Curry Leaves
In addition to the fresh Indian vegetables, you can also buy Atta, Toor dal, Moong dal, Masoor dal, Turmeric, spice mixes like garam masala powder, ground Cinnamon, Cloves, ready to eat Indian curry packets, frozen parathas, Kulfi ice cream, Coconut oil, Ghee etc as well.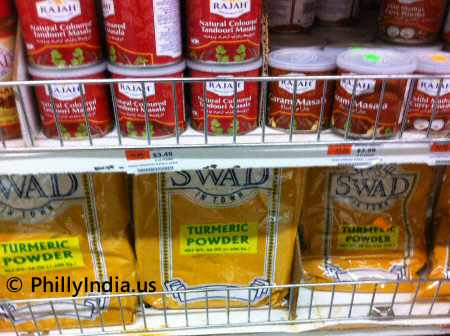 Indian Spice Powders
Hindu Puja Items
Some Philadelphia Indian stores even sell puja accessories like camphor, agarbhatti, diwali lamps and even photos and statues of Hindu gods.
Here are a few Indian grocery stores in Philadelphia:



Meera Groceries

7709 Castor Ave
Philadelphia, PA, 19152


Ph:215-745-8833




Subzi Mandi

3300 State Rd
Bensalem, PA 19020


Ph: 215-633-0708
International Foods

4203 Walnut St
Philadelphia, PA 19104


Ph: 215-222-4480




Patel Grocery Store

2825 Tyson Ave
Philadelphia, PA 19149


Ph: 215-335-4974