Saffron Indian Cuisine Philadelphia
Saffron Indian Cuisine Philadelphia - Poor Service, Good Food
Saffron
is one of the better Indian restaurants in Philadelphia.
I'd even go as far as to say Saffron is a blessing to lovers of Indian cuisine in Center City.
In recent years, I've not derived much joy from dining at Philadelphia's Indian eating houses.
So my recent meal at Saffron came as a pleasant surprise.
Saffron occupies the same spot as the old Samosa and the recently deceased New Samosa.
I was lucky to find a parking spot just a block ahead of the restaurant on Walnut Street and quickly hotfooted back to the restaurant. My visit was on a Sunday around lunch time and there was a buffet ($8.99) laid out against the back wall of the restaurant.
Saffron's lunch buffet is not a lavish affair but they do justice to what's offered.
Tandoori Chicken, Samosa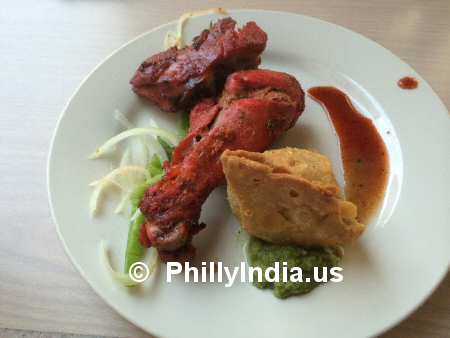 Tandoori Chicken, Samosa
Tandoori Chicken was not out of this world but definitely one of the better ones I've had in recent days.
With a smoky flavor and decent marination, this was a nice piece of chicken.
I dove in with gusto.
Loved the Samosas too. Hot and with a flavorful potato filling, I'd have loved to eat another one. But I restrained myself since I wanted to sample the other buffet items too. Usually I avoid salads at Indian restaurants because they look pathetic and invariably taste yuck.
I'm glad I made an exception here because they had used some nice seasoning that lifted them up above the mediocre.
Entrees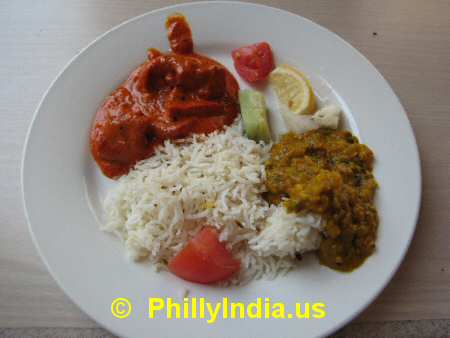 Chicken Tikka Masala, Dal Makhani
Chicken Tikka Masala was good enough.
With the right tanginess and thickness of the gravy, it was fine with both Naan bread and White Rice.
I did not have cause to complain about the Dal Makhani either.
Voila, I even found evidence of some spices in the Dal Makhani. A rare find!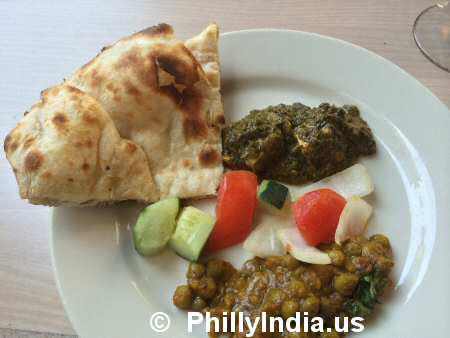 Saag Paneer, Alu Mutter
Saag Paneer was first class.
Not the bland mush I'm often subjected to at Indian restaurants in NY, NJ and Philly.
Surprise, the dish packed some heat too!
I liked it so much that I even packed a takeout lunch box with Sag Paneer. Unfortunately, I forgot to pick up the takeout box on my way out.
But Alu Mutter was a bit of a letdown. Not a total disaster, but there was not much flavor in this fairly commonplace Indian entree.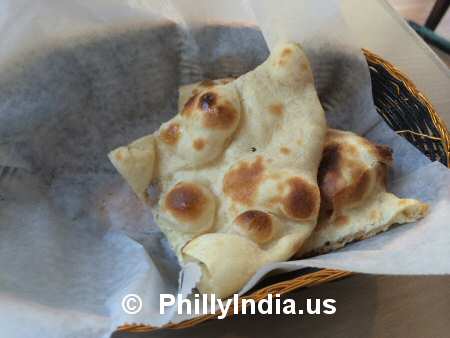 Naan Bread
Naan bread was delivered hot at the temple.
While there was nothing extraordinary about it, I'd put it in the decent category.
Desserts
I was born with a sweet tooth.
And several decades of gorging on Indian sweets have not lessened my appetite for sweet temptations of any kind!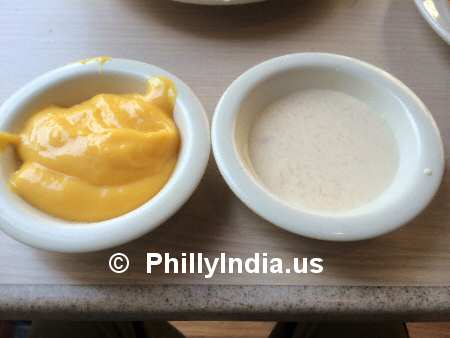 Mango Pudding, Rice Kheer
I was fortunate that both desserts at Saffron hit the mark.
Rice Kheer is usually a travesty at most Indian restaurants. But I'm delighted to report the Saffron version was a treat. Simply divine!
With a nice flavor of cardamom and the right thickness of milk and just enough sugar, it was greatly relished.
Mango pudding looked so enticing that I heaped my cup.
Boy am I glad I did. The thick pudding was awesome and I fell upon it with gluttonous ferocity!
Goat Biryani Fiasco
Goat Biryani turned out to be one of the unpleasant aspects of my meal.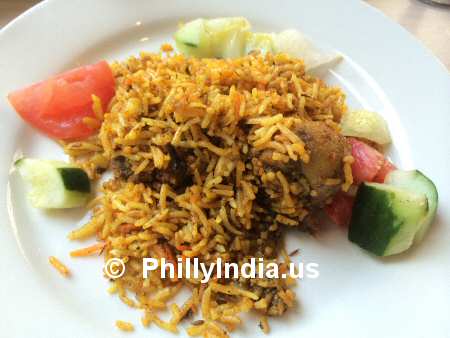 Goat Biryani
Although there was hardly anything left at the buffet station, the restaurant did not care to refill it for about 25-minutes, until the end of my meal.
That's pretty pathetic, and no excuses can explain such indifference to paying diners.
The Indian waiter was busy chatting with two White guys dining
al fresco
and couldn't be bothered to refill my water glasses, replenish the Goat Biryani at the buffet station or clear my used plates promptly.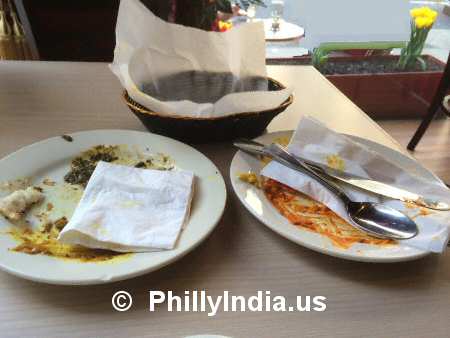 Used Plates Pile Up
But I'm not much surprised since it's in the DNA of Indian waiters to render poor service to other Indians.
I'd say the Goat Biryani was flavorful but not spicy enough for my Indian palate!
Saffron Philadelphia Rating
Despite its service snafus, Saffron is a Philadelphia Indian restaurant I'd love to revisit.
If the restaurant raises its spice level by a few notches, it'd be terrific.
Perhaps, the next time I'll try Saffron's dinner buffet (available daily, $12.99). - ©
PhillyIndia.us