Desi Chaat House Philadelphia Review
Desi Chaat House Philadelphia Review - Cold Shit
Show us one
desi
who doesn't love
Chaat
, that yummy, tangy, spicy, savory, orgasm-inducing Indian street food.
So when we heard of
Desi Chaat House
in Philadelphia, we turned on our Garmin 265WT GPS and made haste to the place.
Located at the intersection of 42nd St and Baltimore Ave in Philadelphia, the Pakistani-owned
Desi Chaat House
is a sibling of the nearby
Desi Village
, owned by restaurateur Ali Bukhari.
Awfully Cold Chat
Although the Chaat House has been around for several months now, the place still has a work-in-progress feel to it.
When we went there the other day and asked if Andhra Chaat (listed on its web site menu) was available, the Pakistani fellow behind the counter responded with a quick 'yes,' headed to the line of boxes of crispy bits, stared at 'em all and returned saying that he had run out of the crispy mixture for the Andhra Chaat. :(
A little miffed, we ordered the Samosa Chaat and Mumbai Chaat and followed it up later with Paapdi Chaat.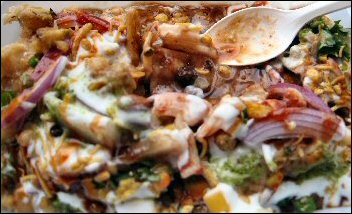 Awfully Cold Samosa Chaat
Our single major grouse against Desi Chaat House is that the Chaat here is way too cold since freezing cold yogurt is used in the preparation.
Such cold yogurt robbed the Chaat of some of its magical flavor and left us extremely irritated. Plus, the weather was also a little chilly and we were not in the mood for such cold stuff.
Well, if it's a
desi
eating place you have to be prepared for all kinds of shit.
Even cold shit. :(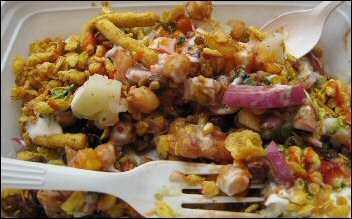 Freezing Cold Mumbai Chaat
Not just the yogurt, even the other ingredients of our Chaat like chickpeas, black channa and potato pieces were cold too.
Obviously, Desi Chaat House and its owner Ali Bukhari do not care too much about pleasing diners.
All Bukhari seems to care about is picking $5.99 from your pocket for each of the Chaats.
Why else would Desi Chaat House use such cold ingredients in the Chaat.
That said, even with all the cold nonsense the Chaats didn't taste too bad. Maybe, we were totally famished. Or were we on a nostalgia trip?
Of the three Chaat we tried, Papdi Chaat was the spiciest since it came with a red chilli sauce on top of the various ingredients.
By the way, the Chaat here come in small takeout boxes if you are in a mood to take it home.
Missing Biryani
We were still famished!
And it was hard to miss the two huge bowls on the counter marked Vegetable Biryani and Chicken Biryani.
But when we asked for Vegetable Biryani, another disappointment awaited us.