Shaban Kabab and Curry Philadelphia
Shaban Kabab & Curry Philadelphia - Mixed Bag
When
Shaban Kabab & Curry
is good it's really good.
And when it's bad it's really awful.
For instance, I picked up Chicken Curry ($5.99) which is usually a spicy Indian delight.
Alas, not at Shaban Kabab & Curry in Philadelphia.
It was so low on flavor and taste making me wonder whether any spices had even gone into its preparation.
Tasted like boiled Chicken pieces flung into brown oil slick of a gravy.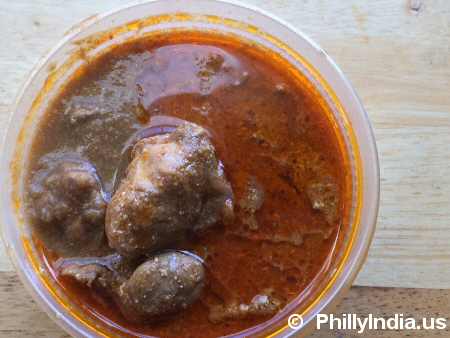 Oil Slick Chicken Curry - $5.99
When a restaurant sports "curry" in its name, the least it can do is rustle up a good Chicken Curry not the monstrosity that came my way.
To its credit, the chicken pieces were tender. But what good are tender chicken pieces to spice craving Indian palates.
Okra Masala - $4.99
Okra Masala was a mixed bag.
Unlike Chicken Curry, Okra Masala was spicy.
But what ruined this favorite Indian curry item was the uneven quality of Okra.
Some Okra pieces were alright while others were chewy and hard.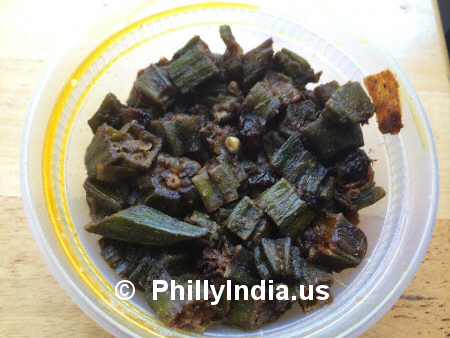 Okra Masala - $4.99
Whoever chopped the Okra at Shaban Kabab's kitchen were utterly careless with ensuring the quality of the vegetable.
Although Shaban's menu describes Okra Masala as a tangy preparation with Onion, Tomatoes and spices, I did not find any evidence of Tomato being used.
However, my Samosa appetizer, Kadi Pakora and Garlic Naan made up for the horrid Chicken Curry and uneven quality of Okra Curry.
Samosa - $1
With a well fried outer structure and an OK Potato Curry stuffing inside, Shaban's Samosa was not bad overall.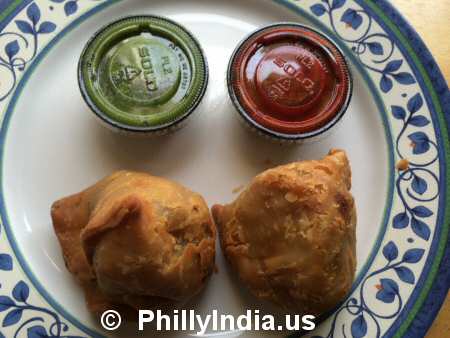 Samosa with Green Chutney & Tamarind Sauce
But what lifted this average Samosa was the two sides - Green Chutney and Tamarind Sauce.
Green Chutney was spicy as it should be and more importantly tasted fresh. Not the freezingly cold stuff doled out by most Indian restaurants in Philadelphia.
Tamarind sauce at most places gets a cavalier treatment with watery texture. But the Shaban's Tamarind sauce was first class with medium thick texture and tangy and sweetish flavor.
Kadi Pakora
The medium thick Kadi Pakora included six small pieces of Pakora.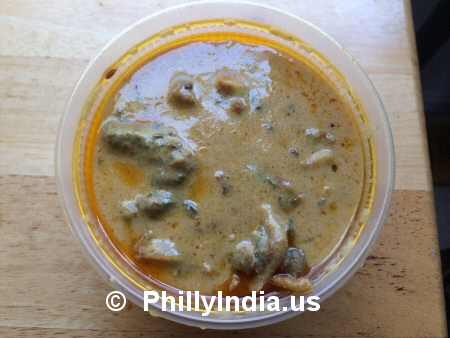 Kadi Pakora - $4.99
Both Pakora and Kadi were flavorful and much relished.
This Kadi is more like spicy Punjabi Kadi and unlike the slightly sweetish Gujarati Kadi.
Garlic Naan
None of the Shaban's entrees came with White Rice on the side.
Well, I am not complaining given the $4.99-$5.99 price tag.
So I ordered a Garlic Naan to go along with my curries.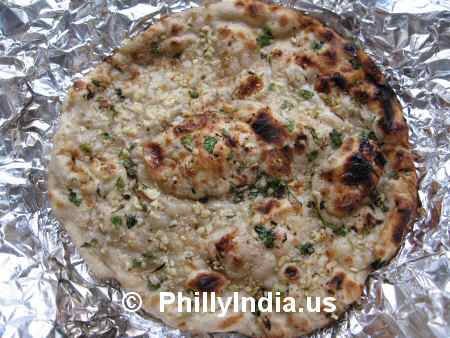 Garlic Naan - $1.99
Garlic Naan was big, included sumptuous quantity of chopped Garlic pieces and Cilantro leaves seasoning.
It was soft and fluffy and I had no complaints.
Shaban Kabab Ambiance
Shaban Kabab and Curry has no ambiance to speak off.
It's primarily a takeout place with a few tables.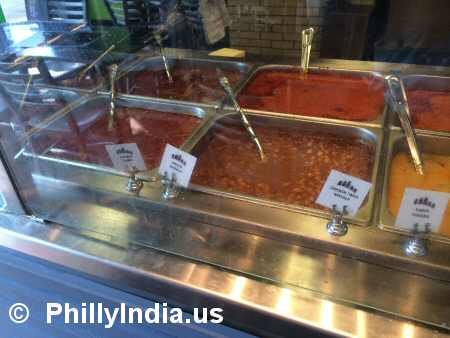 Food Counter of Shaban Kabab & Curry
As you enter Shaban Kabab & Curry, there is a labeled food counter with vegetarian, chicken and meat entrees on the left.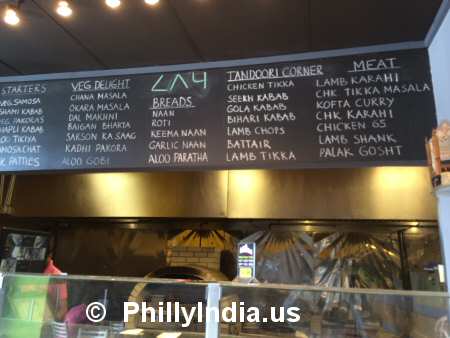 Menu - Variety of Curries
You pick the curries from the menu pasted on the wall above the food counter or from the takeout menu.
My takeout order was neatly packed and came with napkins and plastic spoons.
There is a restroom for the customers at the back.
Restroom was clean and included a water glass (Indians, Pakistanis and Bangladeshi bottoms are averse to toilet paper and prefer water and the left hand).
Nice gesture! I prefer the water glass any day!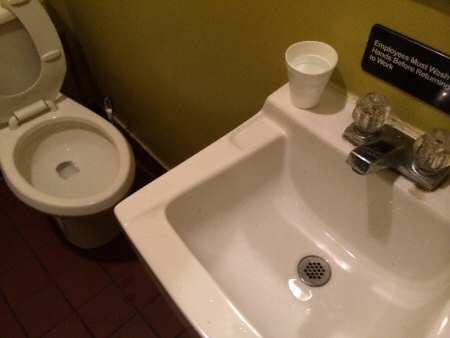 Toilet Mug for South Asian Bottoms
Shaban Kabab & Curry Rating
While the entrees at Shaban Kabab & Curry are reasonably priced, I was disappointed with some of them.
Bland Chicken Curry and chewy Okra Masala will not cut it with me, even if they're priced low.
Shaban Kabab and Curry failed at a fundamental level - taste with the Chicken Curry and uneven quality
vis-a-vis
Okra Masala.
Sure Kadi Pakora and Garlic Naan turned out to be better but it's unlikely I'll return to Shaban Kabab and Curry any time soon. - ©
PhillyIndia.us