Spice End Philadelphia Review
Spice End Philadelphia - Good Rolls, Lousy Biryani
Spice End
is the newest addition to the Indian restaurant scene in Philadelphia (grand opening was on May 3, 2013).
The restaurant is at the intersection of Chestnut St and 20th St, a section with decent foot traffic and right behind a bus stop.
What attracted us to Spice End was its pitching of Kati Rolls.
You see, Kati Rolls are not as heavy as the typical grease-laden Indian curries. Plus, they are easier to eat, manageable even with a single hand.
Our Picks
Spice End offers 11 varieties of rolls including Beef Tikka, Chicken Tikka, Lamb Kabab, Achari Chicken, Paneer Tikka and Mix Veggie.
Since most Indian restaurants shy away from beef given that the cow is venerated by India's Hindu majority, we were surprised to see it on the menu.
Times, we guess, are changing!
All rolls with the exception of Lamb Kabab and Egg are $5.95.
Lamb Kabab Roll costs $6.25 and Egg Roll is $4.50.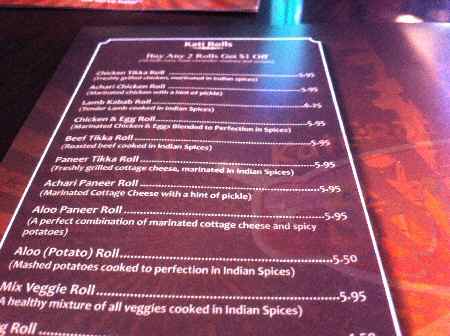 Spice End Kati Rolls Menu
When you buy any two rolls, you get a dollar off.
Besides Kati Rolls, Spice End peddles different platters priced from $6.25 - $9.95.
We plonked for Achari Chicken Roll ($5.95), Paneer Tikka Roll ($4.95) and Mix Veggie Roll ($5.95) for dine in and Veg Biryani Platter ($8.50) for take out..
It took about 15 minutes for our rolls to show up.
The rolls arrived, neatly marked, in two small red baskets placed on a plastic tray.
Also, along with rolls there were two large bottles of Red Chilli sauce and Mayonnaise.
Achari Chicken Roll
Wrapped in a small, medium thick Chapati, Achari Chicken Roll was warm and tasted as if it were made to order.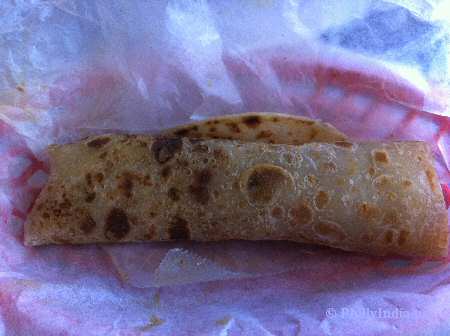 Achari Chicken Roll - $5.95
Achari Chicken Roll included ten small cubes of Chicken, sliced Onion, green chutney and a thin smearing of pickle.
One bite into the roll and we were smiling. Delicious.
Chicken was tender and there was a distinct flavor of Indian pickle in the roll.
A minor gripe was that the inside stuffing could have been a bit spicier, at least for spice hardened Indian palates.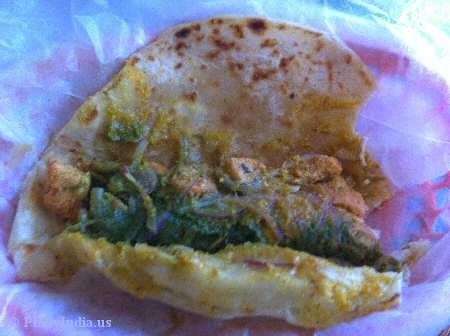 Achari Chicken Roll - Inside Story
To enhance the spice level, we added a bit of red sauce. Not a smart-move as it was crappy.
Paneer Tikka Roll
Like the Achari Chicken, Paneer Tikka Roll also came wrapped in a medium thick, small, warm Chapati.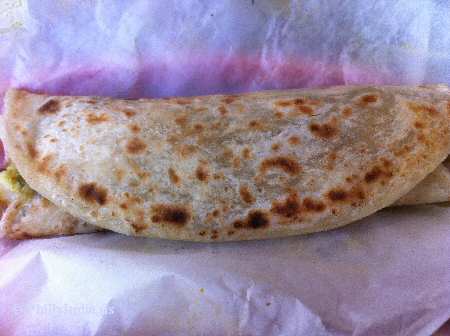 Paneer Tikka Roll - $5.95
Paneer Tikka Roll included eight small cubes of Paneer, sliced Onion and green chutney.
Paneer Tikka Roll - Inside Stuffing
Paneer was tender and well cooked.
Fine as it was, a bit more spice would have elevated it into the heavenly category.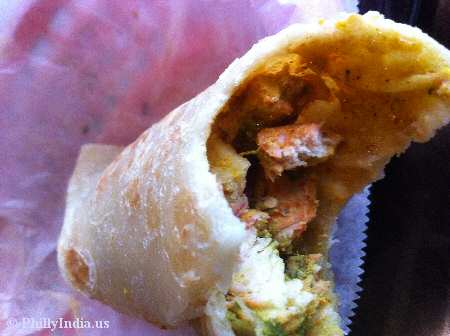 Paneer Tikka Roll - Side View
Indian food tastes better when spices are added at the preparation level. Adding red chilli sauce to enhance the spice level did not work for us.
Mix Veggie Roll
Mix Veggie Roll included diced Carrots, Green Peas, sliced Onion and green chutney.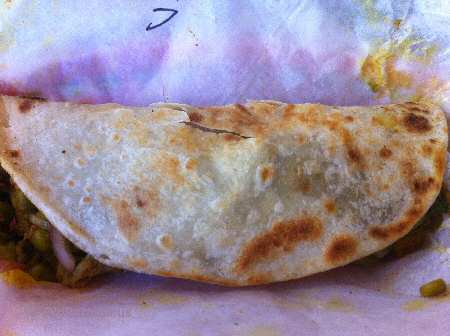 Mix Veggie Roll - $5.95
Again, like others it came wrapped in a small Chapati.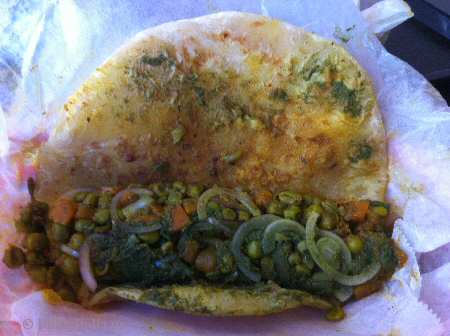 Mix Veggie Roll - $5.95
But the Mix Veggie Roll stuffing was a wee bit salty and we resorted to the white sauce (mayonnaise) to neutralize the salt.
Hey, we must put in a good word for the Chapati casing for the stuffing - Top class.
You'd need at least two rolls to fill you up, setting you back by over $12 making lunch an expensive affair.
Veg Biryani Platter
Half-way through our rolls, we placed a takeout order for Veg Biryani Platter.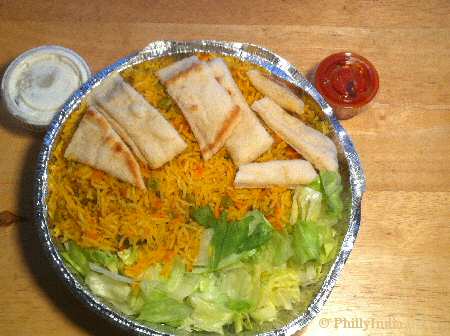 Veg Biryani Platter - $8.50
Veg Biryani Platter included seven small pieces of pita bread, some lettuce, and Red Chilli sauce and Mayonnaise in two small containers.
Alas, Spice End's Biryani Platter was mighty disappointing and not even remotely in the class of its Rolls.
The Biryani we are used to eating comes packed with a fine aroma of Biryani spice powder and rice cooked together on a slow flame along with vegetables.
Spice End's version of Biryani tasted as if it was prepared with dry red chilli powder or paprika powder rather than with Biryani spice powder.
As for the vegetables, it merely included green peas and a few diced Carrots. That's it!
Much to our pleasant surprise, there were a few small cubes of Paneer in the Vegetable Biryani.
Also, Biryani is usually served with raita and gravy on the side but not with red chilli sauce and Mayonnaise.
Pita bread became soft by the time we got home, and not much to write home about.
Instead of placing the pita bread on the hot rice, Spice End kitchen should have packed it separately.
Also, the overall serving size of Biryani was small for the price ($8.50).
For an extra $1.45, you can get an all you can feast on a good Indian lunch buffet at the nearby
Palace at the Ben
on Chestnut St.
Ambiance and Service
We don't expect much by way of service at Indian restaurants and Spice End was no different.
Not surprisingly, the Indian waiter at the cash counter looked at us and said "Yes".
Only Indians do this irritating "Yes" nonsense when you go to the counter to order food. We've always puzzled over why they never try the "Hi, How are You" or What can I get you."
Like most Indian restaurants, Spice End has no ambiance to speak off.
As you enter, you have seven tables on the left and cash counter on the right. Rest room is opposite the cash counter and kitchen at the rear right.
The restaurant could have been cleaner.
And then there was the strong stench of sewage wafting in from the sidewalk through the open window.
Spice End - Rating
If you enjoy Kati Rolls, we recommend Spice End. But be prepared to fork out $12 (inc tax) for the minimum of two rolls you'll need.
Steer clear of the Vegetable Biryani though. © PhillyIndia.us