Maoz Philadelphia Review
Maoz Philadelphia Review - Nice Veggie Haven
If it were a sane and just world, only animals would eat other animals.
Alas, such is not the case and man with his lusty appetite adds an extra dimension to
sins of the flesh
.
Despite our shameful carnivorous lapses, we must acknowledge a revulsion toward this dreadful practice of crunching into the clobbered remains of defenseless, domesticated creatures like cows, lamb, goats, chicken, pigs
et al
.
If we can eat an innocent lamb, why not babies. Maybe, that day too will soon come given the world's precipitous slide to the dark, venal side.
Given our inner penchant toward vegetarianism and growing misgivings toward the meatier side of life, it was no surprise then that in our restless wanderings we should find a safe haven at
Maoz
(the Walnut Street branch) in Philadelphia recently.
An European food chain with its roots in Amsterdam,
Maoz
has lately been spreading its wings stateside.
It was a cheerless day in Philadelphia during our visit. There was still snow and slush on Walnut St but thankfully the inside of
Maoz
appeared clean.
Maoz is your typical no-frills fast-food eatery. You walk to the counter, place your order, pay up and wait at a table for your food to be ready.
We selected the Salad Meal ($7.95) and the Meal Deal ($6.95).
Maoz Salad Meal
The Salad Meal includes a salad box with five falafel balls, two add-ons, some lettuce, a glass of fresh juice (we picked carrot juice) and a whole bunch of salads.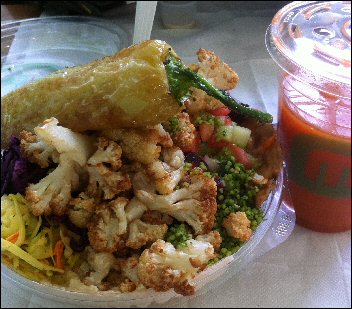 Salad Deal with Fresh Carrot Juice
The young woman at the counter (Virginia) didn't offer us a choice of add-ons but just mumbled hummus and eggplant to which we bovinely acquiesced. It took about 7 minutes for our food to be ready.
The salad bar to the left of the cash counter was an
embarras de richesse
with more items than this math-challenged
desi
could count.
No different from the stereotypical
desi
pig, we gleefully heaped our salad box to the brim with a variety of items from the salad bar.
Salsa, cilantro chutney, sliced carrots, olives, fried hot peppers, corn mushroom dil seeds, cauliflower, beetroot salad, tabouli salad, garlic sauce, yogurt sauce, cole slaw and more made their way into our salad box as fast as our grubby hands could shovel them in.
The salads were not cold, a blessing on a chilly day.
We stuffed the box, and then some more till the brim. Didn't we tell you we're
gourmands
?
By the way, if you are as lecherous about food as we are, then stuff as much as you can because you can't return for a second helping.
As for the taste, the overall effect on our palate was of eating fresh and delicious food although, in retrospect, we should've added a bit more salsa and cilantro chutney. Oh well, there's always a second time.
The falafel balls were warm, the eggplant slice seemed as if it were dipped in thin flour and fried and the sticky hummus paste pleasing to the tongue.
Hey, our box was ample for two. We couldn't finish the bulging box and brought it home.
Carrot Juice was cold, not very thick and had a fresh flavor to it.
Maoz Meal Deal
The Meal Deal includes a freshly baked pita pocket with hot falafel balls, eggplant and hummus that you can top with salads and sauces, a side of Belgian or sweet potato fries and a drink (but not juice).
We opted for Belgian fries and later picked a Fanta soda can from the cooler.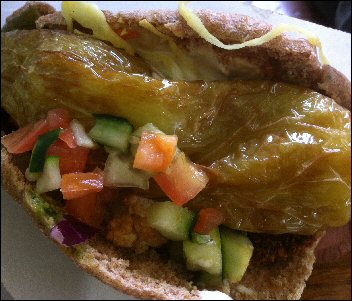 Meal Deal
The Belgian Fries were nothing to write home about.
But the Maoz Sandwich with falafel balls, eggplant and Hummus was a nice, satisfying change from our daily Idli, Roti, Chapati, Curry meals. Again, stuff as much from the salad bar as you can get into the Pita Bread because you can't head back.
Given the size of the pita bread and the falafel balls inside, there's not much space to stuff too much salads here.
Adding a few drops of oil from the bottle on the table and some garlic sauce, we leisurely devoured the Maoz Sandwich idly eying the human and vehicular traffic on Walnut St.
Completely at peace with the world.
Although the Salad Meal costs a dollar more, we thought it provided better value than the Meal Deal.
Some Gripes
The floor below our table was sticky.
While the Rest Room was clean, the light was off causing us to fumble for the switch in the dark.
But those are minor cavils intended more to vent our insatiable urge to whine about anything and everything.
Overall, given its wholesome, fresh, veggie and meat-less fare, we'll return to
Maoz
the next time we're in Philly.
If you want to wean yourself off the inhuman, beastly crime of consuming meat, a visit to
Maoz
would be a great start. - © PhillyIndia.us