Karma Philadelphia Review
Karma Chestnut St - Unhygienic Practices, Poor Service, OK Food
The other day we were hungering for a quick Indian meal before heading to watch Woody Allen's much acclaimed movie
Midnight in Paris
at Ritz 5.
Our choice fell on
Karma
(2nd St and Chestnut St) as it is the closest Indian restaurant to Ritz 5 (2nd St and Walnut St).
There were no standout dishes at Karma.
But much of the food we tasted at Karma with the exception of Sambar and Channa Masala was OK.
What irked us, however, was the unhygienic dining room and table practices and overall poor service. More on the poor hygiene later.
Karma's Appetizers
Alu Papdi Chaat was OK, Pav Bhaji minus Pav was tasty and Idli was soft and fluffy.
We would have enjoyed all three appetizers more but for the ugly color of green chutney, awful Sambar and Pav Bhaji without the Pav.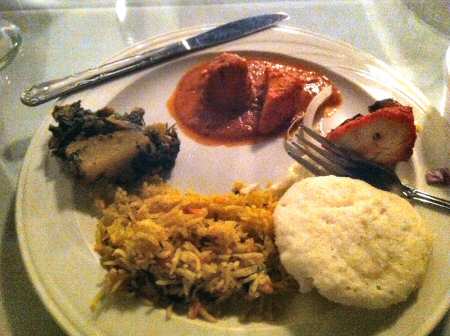 Idli (bottom right), Veg Biryani (bottom left),
Tandoori Chicken (middle right),
Chicken Tikka Masala (top right), Alu Saag (top left)
A generous amount of food color seems to have gone into the green chutney giving it a sick-looking color.
Sambar was very watery with generous amount of vegetables (carrot, egg plant & capsicum) and tasted like red chilly powder water than the real Indian Sambar.
Karma Vegetarian Fare
We sailed across a vast river of Vegetarian fare that included Paneer Vegetable Delight, Mushroom Makhani, Alu Saag, Channa Masala, Vegetable Biryani and plain Rice.
Paneer Vegetable Delight was creamy, tasty and gave no room for complaint.
Mushroom Makhani was slightly sour and was ok. Channa Masala was also slightly sour and wee bit high on salt.
Alu Saag had a slight burnt flavour but was quite spicy and we enjoyed it with Naan bread.
Vegetable Biryani was flavorful and plain Rice had a fresh texture.
Chicken and Fish Items at Karma
Meat items during our lunch visit included Chicken Tikka Masala, Tandoori Chicken and Fish Masala.
Chicken Tikka Masala was creamy and flavorful.
Tandoori Chicken with decent marination was good. Fish Masala in too watery a gravy did not endear itself to us.
Karma Desserts
Gulab Jamun was a overcooked mess with mushy texture robbing us of the pleasure of enjoying this staple Indian sweet.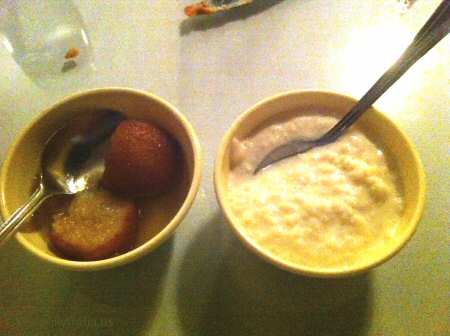 Gulab Jamun (left), Rice Kheer (right)
But the Rice Kheer was a creamy delight and more than made up for the crappy Gulab Jamun.
Karma - Unhygienic Practices
While we did not have too many gripes about the food, what irked us at Karma were its Unhygenic practices.
First, the silverware is kept directly on the glass-covered table, which is a big no-no from a hygiene perspective. You see the silverware will pick up the odor of table cleaning chemicals if they are placed directly on the table.